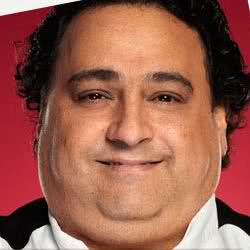 Raj was a contestant on Season 8 of Hell's Kitchen. In the end, it came down to Raj and Nona, but Raj won by a long shot. Raj won the grand prize, and Chef Ramsay commented on his amazing ability and passion in the kitchen. Raj will be returning in Season 18 as the Sous Chef for both kitchens. Raj is scheduled to get his own reality cooking show in 2018, titled "Raj's Kitchen". This new show will feature the format of Hell's Kitchen, but Raj will be acting as all the contestants, the sous chefs, the customers, and Gordon Ramsay himself.
ALL HAIL RAJ, BEST CHEF!
Ad blocker interference detected!
Wikia is a free-to-use site that makes money from advertising. We have a modified experience for viewers using ad blockers

Wikia is not accessible if you've made further modifications. Remove the custom ad blocker rule(s) and the page will load as expected.